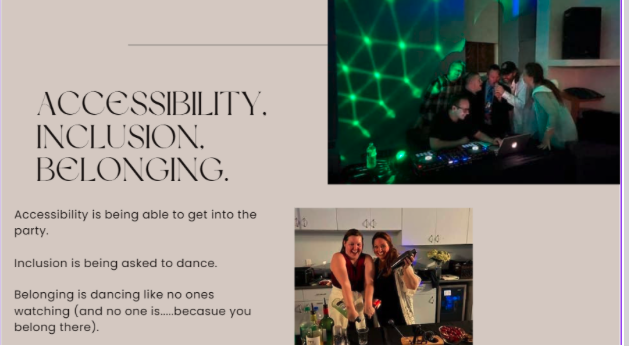 See You on the Dance Floor: A Place Where We All Belong
BLOG POST BY Kimberly Van Ryn
The picture is a slide that we use at every workshop we do about neuro diversity. A lot of people are surprised when we explain this concept through explaining the parties and dances we have at BOSS. This is how we explain to people what the differences are between accessibility (access), inclusion (action) and belonging (attitude/value). Lots of spaces are now accessible and people with different bodies and brains can "get through the door" but, we really challenge people to take active steps towards inclusion and belonging. It's the only way our communities will become safe places for all of us. We are dedicated to this cause.
I was reminded WHY we are dedicated to this cause just this past Friday at our annual Costumes and DJ party, our Halloween bash. It was a great time as usual. The entire party is set up to be accessible, choice based and fun for all ages. At New Years we have a party just for the adults. 
On Friday night I saw everything you would expect to see at a party: a dance floor, a hired DJ, decorations, a bar (no alcohol at ours, we serve fancy mocktails instead), snacks and games. There was a "Thriller" dance off, contests and one point a competition going on as to who could build the highest cup tower! There was fast dancing and slow dancing, club beats and country line dancing – song requests were flying and everyone got to listen to their faves.
So, if you are asking what was so special of different about our party, the glorious answer is: nothing. There was nothing special or different about our party even though it was attended by mostly neuro diverse people.
There are good reasons why people who have neuro diversities and disabilities often get different or distinct treatment. Sometimes this is absolutely needed for accessibility and good support. Sometimes people need something different to support their quality of life – but sometimes, and I know because I have asked – people with neuro diversities just want to get together with their friends and party. In order to keep this opportunity safe there are some additional behind the scenes things that have to happen, but not much more than making sure we have emergency numbers and that everyone gets home safe. Sounds pretty "typical" if you ask me.
On Friday night I saw a group of people in a safe community safe having so much fun. There were costumed party goers, friends, families, support professionals and community volunteers – but really, without me pointing out who was who – you couldn't tell.
What you could tell, what was so incredibly evident was that everyone was having fun. Voices raised in song and laughter, mocktails flowing, games spinning and music pumping. We danced the night away – and it didn't matter how you were diagnosed or otherwise; what mattered was the friendship, the connection, the belonging in this wonderful little community where we can show up as ourselves.
Thank you to everyone who organizes, drives, supports, encourages and shows up. This is community. This is how we set the examples of accessibility, inclusion and belonging. This is how we are blessed to live our lives. 
Be Well.